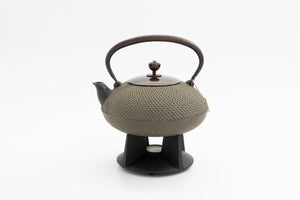 Located in Yamagata, a prefecture with almost 1,000 of iornworking history, Hisanori Masuda is one of Japan's premier, award-winning blacksmiths. He established the casting studio Chushin Kobo in 1997, where he creates artforms utilizing traditional Japanese techniques and aesthetics in new ways.
These kettles are cast using the usuniku-birei technique, which roughly translates to, "beautiful, thin walled". Arare, "hobnailed", texture. Copper lid, hand painted urushi lacquer finish. Signed with the artist's seal.
1.6 liter capacity. Warming stand and candle included.