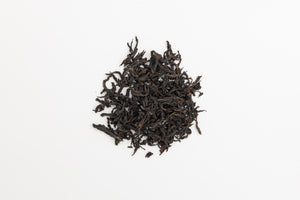 Fo Shou, "Buddha's Palm", is a lovely cultivar that is very different from other oolongs. Named after the massive hand-sized leaves, some also say the aroma is similar to the Buddha's Palm fruit. The palate is wide and smooth, with an enduring permeance. Downy and malty, the texture is thick but bright and elastic, producing a marvelous cobbled mouthfeel. Sweet, mellow sandalwood incense entwines with bergamot and velvety plum.
Heavily roasted and allowed to mellow since 2015. It is now ready to drink.
75 grams, tin canister.